Experienced Home Builders and Remodelers in the Madison Area
A house is only as good as the building materials and the people who build it. That's why Michael F. Simon Builders has made significant investments in personnel, resulting in highly skilled, experienced, and loyal team members, dedicated to being the best custom home builders in the Madison area. The Michael F. Simon Team is just one of the unique benefits that we have to offer.
Single-Source Custom Home Construction
Over the years, Michael F. Simon Builders has developed an exceptional team of professionals. Simon Builders does not subcontract out carpentry work as many companies do. Instead, we employ the most highly skilled carpenters, ensuring the same excellent quality on each and every project.
A quality framing carpenter needs the skills to be able to picture the end product. Being that the framing is covered up in the finishing stage of construction, this is an area where shortcuts are often found. Instead of subcontracting the framing stage out to the lowest bidder at that time, which is common practice in the industry, Michael F. Simon Builders have always employed an in-house framing crew. This helps us ensure that the structure of the home is built correctly, without any shortcuts. This is especially important to our finishing crew. For example, when it comes time to put on the final touches, such as towel bars and window treatments, they know they will have a solid base to attach them.
After our framing crew has built the structure of a home, the talented craftsmen of Michael F. Simon Builders finishing crew arrive to finish the home. Our skilled carpenters install the cabinets, base along the flooring, casing around windows and doors, and craft all the custom details that we have become known for in the custom new home market. These carpenters take so much pride in their work that it is common to find them signing their finished product, either on the back of a piece of trim or the back of a cabinet.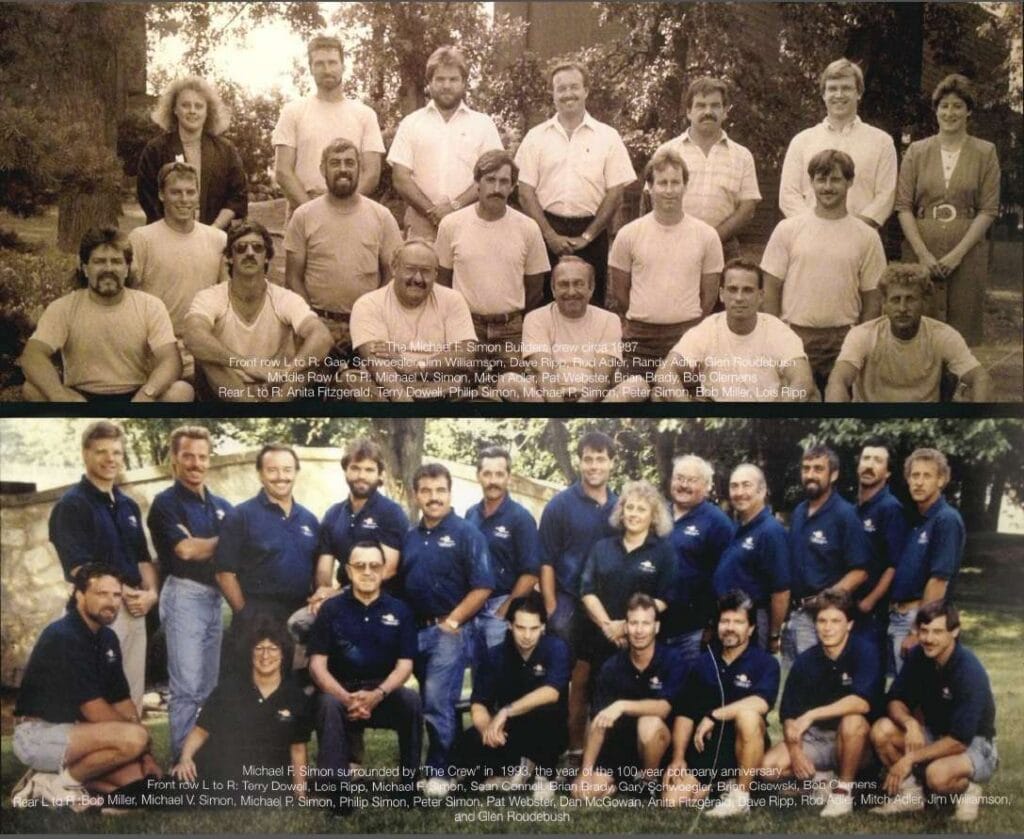 YOUR TRUSTED HOME RENOVATION TEAM
While building and remodeling are very similar, they also have many major differences. On a remodeling project, workers are coming into your home and disturbing your day-to-day routine. There is usually noise and dust involved, not to mention workers arriving in the morning as your family is getting ready for the day's activities. This requires the home owner to grant a certain level of trust to the remodeling crew, allowing them access to the owners' personal space.
At Michael F. Simon Builders we have a dedicated remodeling crew that has been focused entirely on remodeling projects for the past 40 years. That level of leadership and responsibility combined with the high level of craftsmanship is how we can deliver the same stunningly beautiful remodeling projects that we have become known for.
Interested in Working for Michael F. Simon Builders?
If you are searching for a fulfilling career and think you would be a great addition to our team, take a look at our current openings. We look forward to meeting you!