Sustainable Home Construction
A LEADER IN BUILDING GREEN
We don't believe green home building or green remodeling is a fad or a trend; we believe it's our future. Every decision we make as builders – from land use to building orientation to material selection has a corresponding impact on our environment.
As we guide our clients through the custom home building or remodeling experience, we recommend green design and products to the extent the client's budget allows. For some of our clients, green home building or green remodeling takes a long term view of using energy efficient materials with an upfront investment to save more money over time. For others, it's about building a home they can feel good about in body, physically feeling better because of improved indoor air quality, and in mind, reducing impact on the environment. Whatever the motivation, Michael F. Simon can put our knowledge and experience to work for you.
For over a decade, we have built every home to meet the highest energy and building standards as set by Green Built Home™ and Energy Star™. In fact, we built the first house to hold all three certifications of a Green Built Home™, Wisconsin Energy Star Home, and American Lung Association Health House®.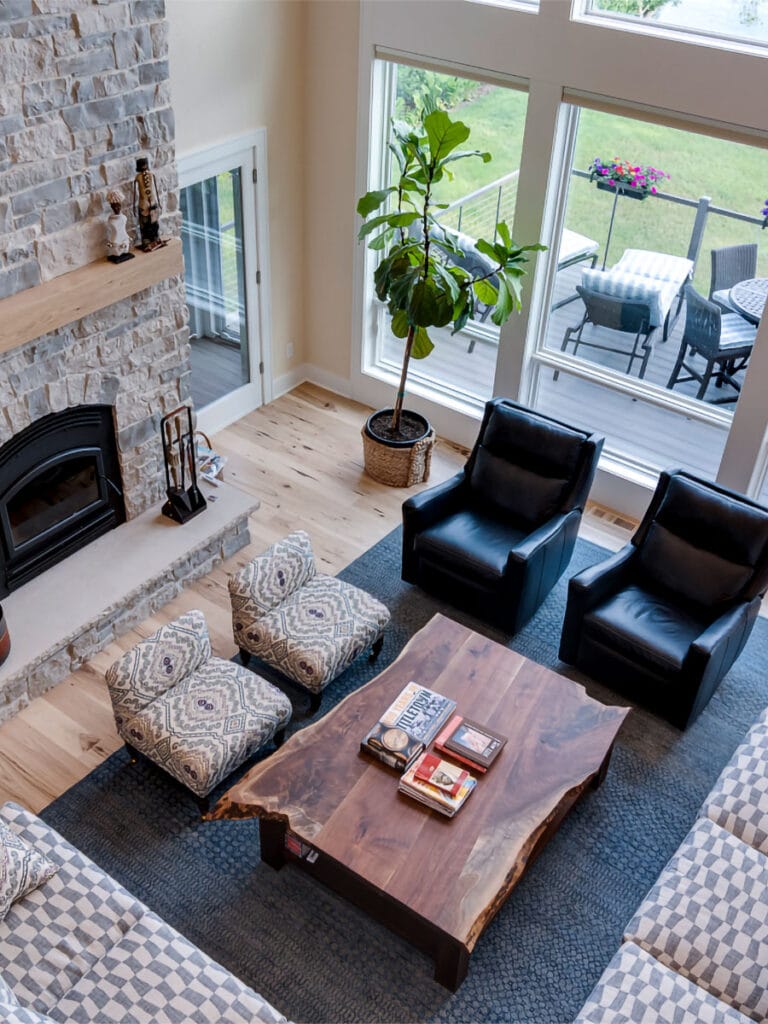 Green Built Home™ is a statewide green building standard. GBH™ was founded in 1999 by the Wisconsin Environmental Initiative in partnership with the Madison Area Builders Association. We entered our "1999 Parade Home in the Pilot Project". GBH™ has recently been endorsed by the Wisconsin Builders Association as the statewide and Midwest green building standard. GBH™ focuses its efforts on promoting green building practices that meet meaningful environmental, health and energy standards.
Custom Green Home Designs
The home must meet a comprehensive checklist consisting of features that conserve energy and natural resources in three categories: Energy Efficiency, Indoor Air Quality and Erosion Control Standards. From the checklist, we select features to incorporate into the home's design. Some requirements are mandatory. Each feature on the checklist is assigned a point value. GBH™ has prioritized and ranked practices and products that we builders can use to reduce the environmental impact of the home we are building. To meet GBH™ certification, the home must meet a minimum number of points.
THE MICHAEL F. SIMON STANDARD
Because we now enroll every home we build in the GBH™ program, the review process is streamlined using our standard specification plan. This is a list of features we agree to use in all the homes we build, divided into sections that include:
The checklists make it easy for our clients to determine what aspects of the home will comply with the GBH™ requirements. The process of scoring their home enables us to add or subtract elements of the home according to the budget and the environmental emphasis the client seeks to achieve.
DESIGNED WITH HEALTH IN MIND
The American Lung Association Health House
The American Lung Association Health House Program guidelines are more stringent than Energy Star™ and Green Built Home™. A Health House focuses on improved indoor air quality, materials and building products that are less toxic and environmentally friendly, durability and energy efficiency and in general a better performing home requiring less future maintenance.
Looking for More Information?
There are many factors to consider in green home building and green home remodeling. Give us a call to discuss how you can make your new or existing home healthier for you, your family and the environment.