Award Winning Project,
Residential Kitchen, $20,000-40,000
This remodeling project has won first place in the local and first place in the regional Contractor of the Year (COTY) competition held by the National Association of The Remodeling Industry (NARI). 
We are excited to show you this kitchen Refresh that we have completed. We call it a "Refresh" rather than a remodel because we kept everything in the same location, and updated the kitchen. The existing kitchen had the original cabinets that were installed when the home was built 45 years ago. They were still in very good shape but were starting to show signs of wear and tear. We removed the existing cabinets and replaced them with new Countryside Cabinets that incorporate a bead board center panel. We removed the existing tall pantry cabinet that acted as a separation from the kitchen to the dining room, and we replaced it with a base and upper cabinet to add valuable new countertop space. The cabinets were chosen to match the surrounding rooms that had lighter colored furniture with light blue accents. The countertops were removed and replaced with new white quartz countertops that matched the cabinets quite nicely.
The existing vinyl flooring and sub flooring were removed from the kitchen as well. The subflooring was removed and replaced to ensure that the new floor would be a solid, squeak less, floor system that would last a very long time. The flooring that our client chose was a laminate flooring product in a White Brushed Pine Plank color.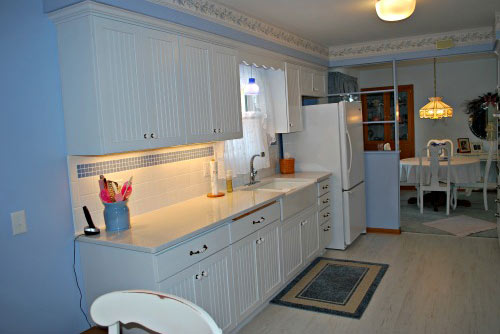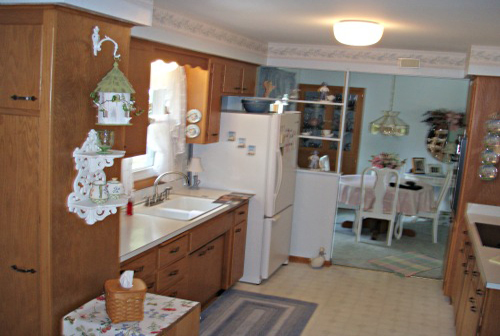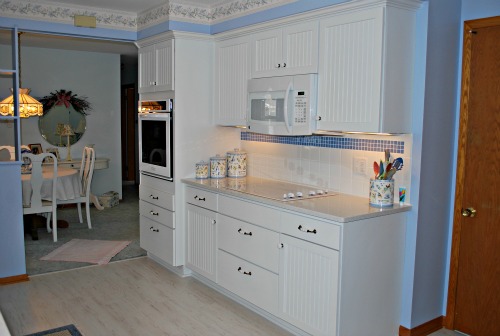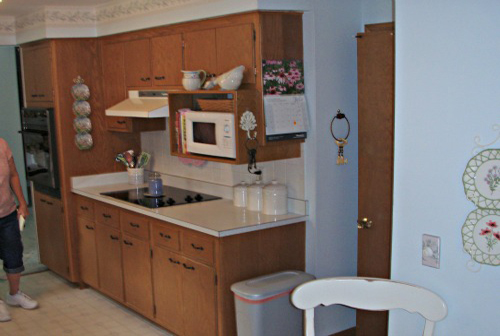 As for the lighting, plumbing, and appliances in this Refresh, we installed convenient under-cabinet xenon lights that could be controlled by a dimmer to adjust them accordingly. A dimmer was also installed for the overhead lights in the kitchen to make them more versatile for the client. New white appliances were installed which fit in perfectly, including a GE cooktop, microwave hood, and a wall oven. We couldn't replace everything except for the kitchen sink, as the saying goes, so we installed a new Farmhouse Style Kohler Sink as the icing on the cake in this beautiful kitchen Refresh project.