For this project, we were working with an older home that had many renovations over the years. Our goal was to remodel the second level of the home to change it to a modern layout. We began the design work on this remodel with a focus on utility and our homeowners' desire to create a more functional second level of their home. Being an older home, the layout had many small rooms which we were eager to change. In addition, the best view in the house was in the rarely used three-season room along the back of the house.
The goal of the second level was to provide our homeowners with an excellent view they could enjoy daily as well as provide additional amenities for them and any house guests. 
To accomplish our clients' goals we redesigned the second level to include a new laundry, master bath, and guest room. The existing three-season porch was leveled and insulated to be used as the master bedroom. The existing guest bath remained, but the rest of the second floor was demolished revealing years of remodeling projects and alterations.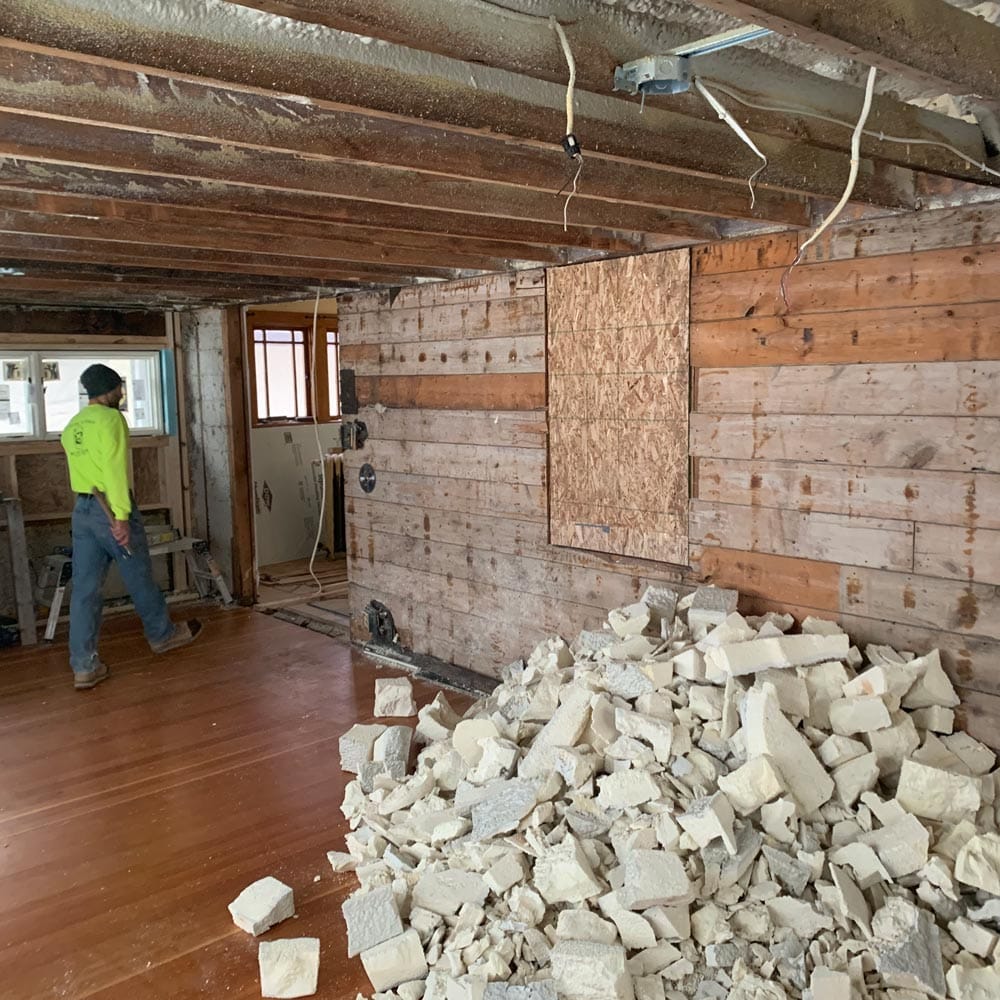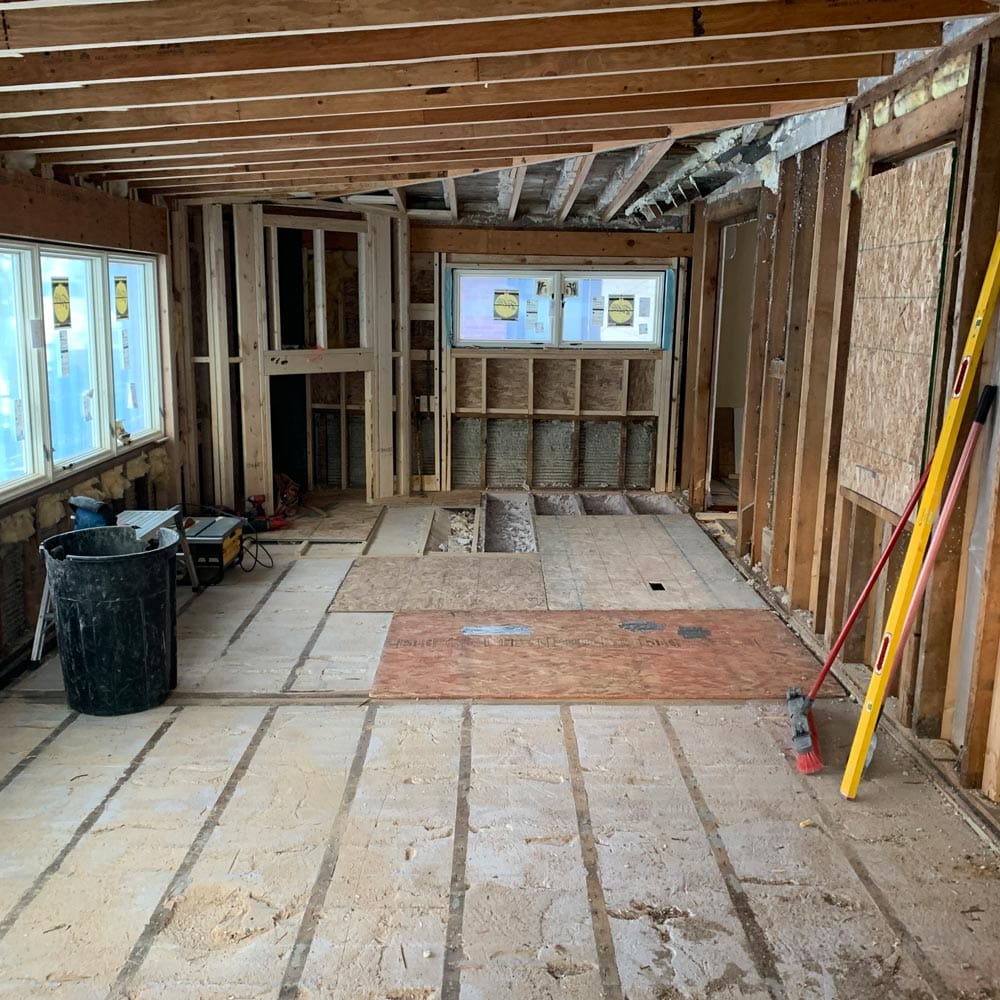 It became a messy process but was certainly worth it to gain additional ceiling height and level floors. This took a lot of work, as our team had to remove existing insulation, flooring, and exterior doors to open the new master bedroom to the rest of the 2nd floor. The new space had higher ceilings, a higher insulation value, and a better view than we started. The added accent fireplace was a particularly good choice for our homeowners- providing warmth as well as a cozy place for their dog to cuddle up at night!
This stunning view was quite the inspiration throughout the project, and we are so glad that our clients can wake up to this every day!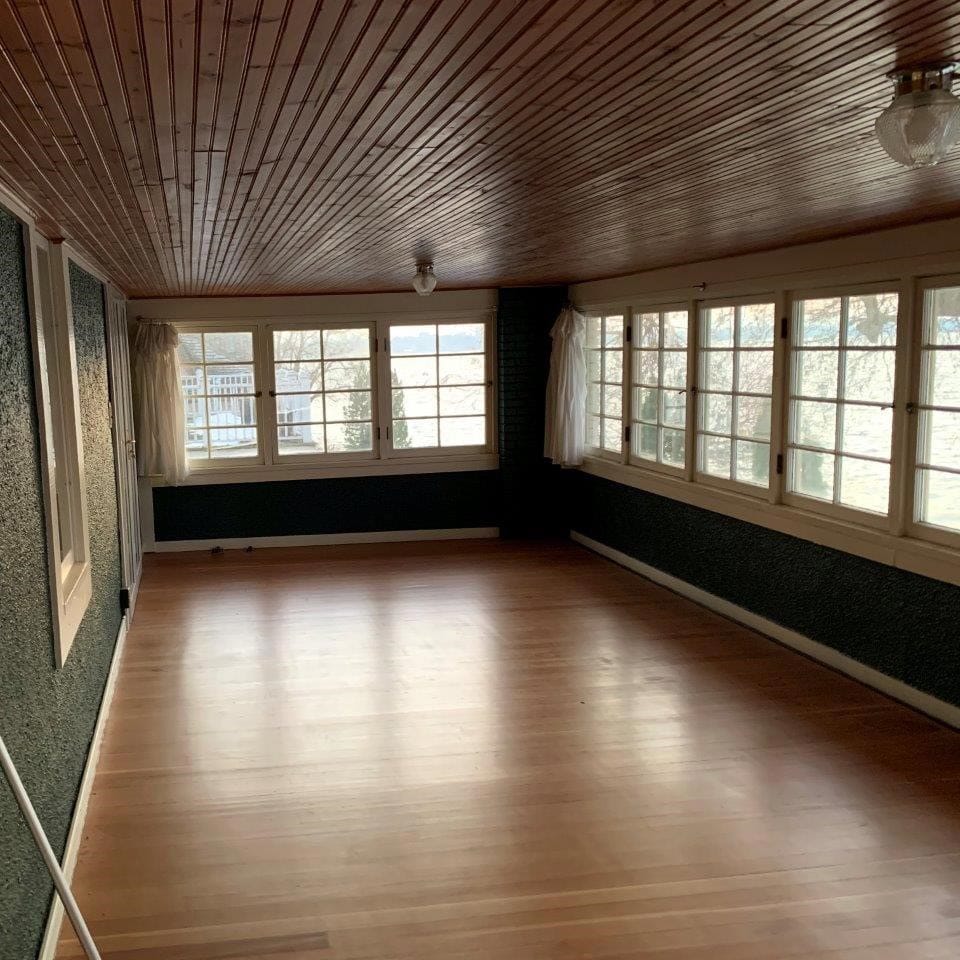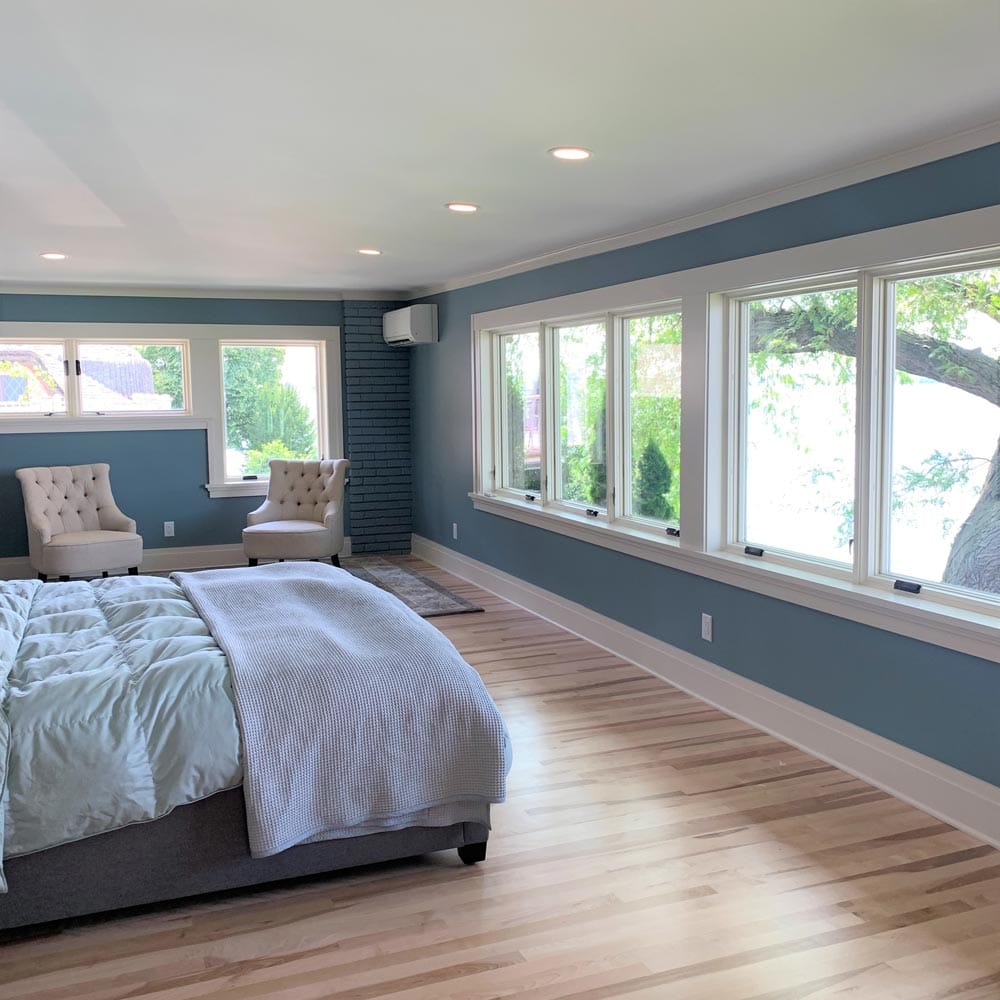 When thinking of a large-scale project, we hope you can think of Michael F. Simon Builders! This project seemed simple in concept- but proved to involve much more than at first glance. New ductwork and insulation were needed for the new master bedroom as well as bringing various areas of the home up to present-day code. We also devised creative ways to reuse many of the original vintage elements of the home rather than demolish and replace everything. We value our client's perspectives and eye for detail and want to preserve unique design elements in their new space. The old master bedroom was transformed into a guest bedroom and laundry room, perfect for any short or long-term stay!
We can't forget the coffee bar with dishwasher drawer and mini fridge—who can wake up without this! 
Think your remodel is too much to handle? That is what we are here for! Contact Dan in remodeling sales for a personalized estimate on your home's next project! 
Considering a Lake Home Renovation? Where to start?
First, for any large renovation give us a call!
Next, whether you have a new property to fix up or want a big change in your current home, we are here to help! When thinking of a large-scale remodel you want to be sure your new space is cohesive and will be a space you will enjoy for years to come. The Michael F. Simon team has seen a great variety in style and design – and we love them all! We are happy to help you find the right look for your home. Every remodel starts with a conversation about what you need in your home and what you want in your home before we begin the pricing and design for your project.