The Michael F. Simon Builders team boasted about this remodel when we started work this past summer and are pleased to see the hard work pay off. Our client brought us a beautiful lake home with a less than ideal layout. We helped layout a functional design that created a more suitable place for our clients and their family. Adding a first floor Master Bedroom and redesigning the main level bath as an ensuite was a must-have for our clients. In addition, the old garage and kitchen we re-envisioned into a new kitchen, laundry room, and study.
Big Changes to the Layout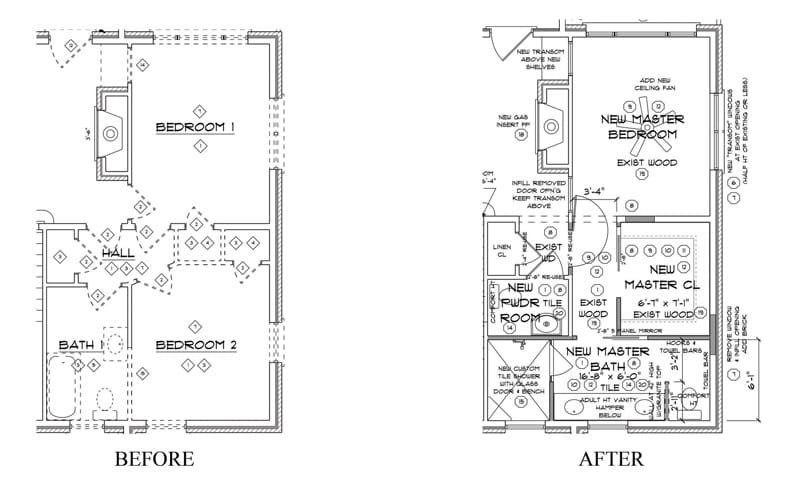 One of the bigger transformations was a section of the home that previously had a garage and a small kitchen. This space was not functional for our clients, so in the design process, we planned to remove the garage and move the kitchen to the outer wall. This made room for a new Study and a Laundry Room, as well as a side entry. Our clients also wanted the lower level bedrooms to become the new master suite, so our team transformed two existing bedrooms and bath into a master ensuite. The plumbing and electrical needed for these new spaces were brought up to code as well. Older homes often keep secrets, and we were lucky not to find too many during this process.
With these changes, our clients will be able to live primarily on the lower level of the home but still host family over long weekends in the spacious upstairs areas.
One of the biggest visual changes was opening the living space in front of the fireplace. We loved many of the home's original details. The masonry around the fireplace, the overhead beams, and the traditional hardware, and we were able to preserve and featured them in this area. The room was brightened by installing new windows in the three-season room. Overall this was a much more functional use of the main level, which was the goal of the remodeling process.
Although our part in this remodel is complete, we are excited to see this home with its finished landscaping come spring!
Considering a Home Renovation? Simon Builders can help!
A home redesign isn't something that you jump right into blind. You are going to want to do some research before you begin planning out your home redesign. Here are some questions to ask yourself before you begin thinking about the redesign process.
What is my budget? Can I achieve the design I want? What are my goals for this redesign? Who do I call for help?
The last question is easy enough- our design and sales team will help you find the right look and quality products to transform your home. We have the years of experience to guide you through the process from start to finish! Contact us today to get started.