Our featured project this month also happens to be an award winning project. We entered a portion of this project into The National Association of The Remodeling Industry's (NARI) Contractor of the Year (COTY) and it won first place in the "Residential Interior Element under $30,000" category. NARI presents this prestigious award to a member who has demonstrated outstanding work in their remodeling project. We are so proud of our entire team for their efforts.
Traditional Transformation
Our client for this project had purchased a condo on the top floor of a building on the Capitol Square in Madison. The views from this unit were truly breathtaking overlooking the Capitol as well as views to Lake Mendota; however, the previous owners had finished this unit in a very contemporary style interior which was not to our client's liking. There was a lot going on with different textures, colors and finishes. Our client wanted a warmer, more traditional interior.
While remodeling occurred in a majority of this 3,200 square-foot condo, our focus for this award and this article is on the fireplace wall as the element in the "Residential Interior Element under $30,000" category. This includes replacing the existing fireplace, adding a surround and redoing the accent walls on each side of the fireplace.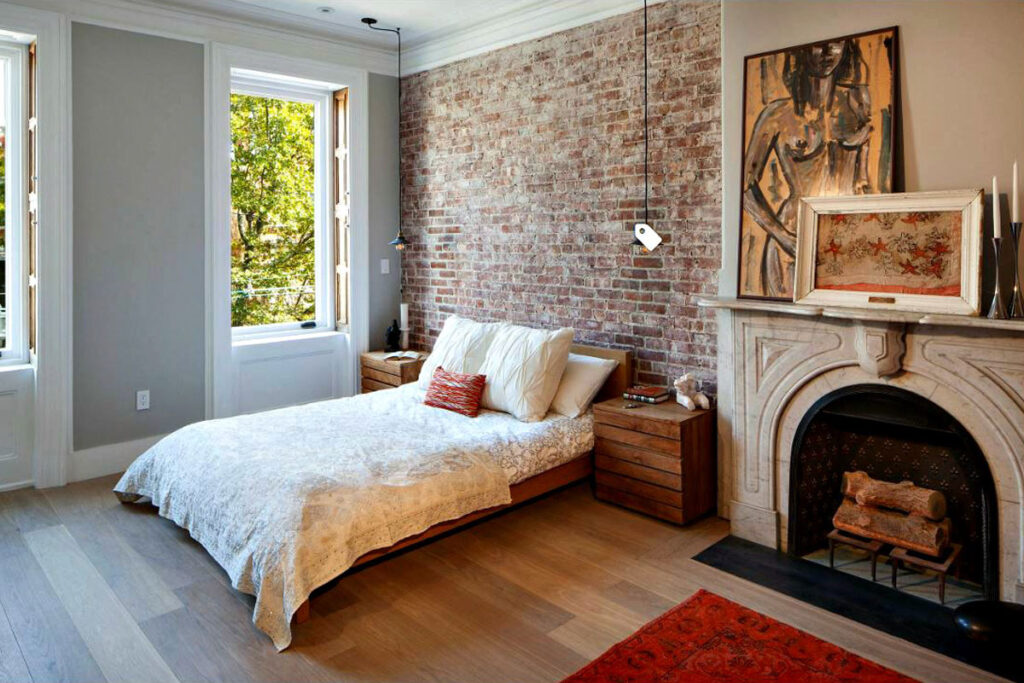 This was a picture that our client had found on Pinterest and absolutely loved. She brought it to our first meeting and asked us if we could make her living room fireplace wall look more like this picture. She loved the simple and warm feeling of this space.
The original fireplace that was installed at the time that the building was constructed was a gas fireplace. The second owner of this unit had switched over to an electric fireplace but the flames didn't look very natural and the unit didn't put out much heat, if any at all.  We were able to remove that electric fireplace and install a beautiful new gas unit that will put out quite a bit of heat.
The new fireplace wall is a great new interior element. The simple yet grand cut-stone fireplace surround lands symmetrically on a cool colored accent wall to create a contrast to the warm color and texture of the brick. The feature provides traditional balance to the more modern features of the building itself. This small change really transformed the look and feel of this space. It is the centerpiece of the Living Room and is both warm and inviting as a conversational area and functional as a gathering point for family and friends.
While remodeling the other areas of this condo unit, we were able to carry this style throughout the remainder of the unit to bring continuity and repetition of the new urban style to the remainder of the project.
Considering a home renovation? Simon Builders can help!
A home redesign isn't something that you jump right into blind. You are going to want to do some research before you begin planning out your home redesign. Here are some questions to ask yourself before you begin thinking about the redesign process.
What is my budget? Can I achieve the design I want? What are my goals for this redesign? Who do I call for help?
The last question is easy enough- our design and sales team will help you find the right look and quality products to transform your home. We have the years of experience to guide you through the process from start to finish! Contact us today to get started.