This month's featured project showcases one of our screen porches. Our homeowners have a house that they love and it had a deck that was underutilized because of harsh southern exposure sunlight and bugs in the summer. They knew they wanted to enjoy more time outdoors relaxing and really wanted to treat their outdoor space as an extension of their living space. This house has a spectacular golf course and countryside views that were one of the reasons they were drawn to the home 10 years ago. They decided they had waited long enough and were ready to make an investment in their exterior living space.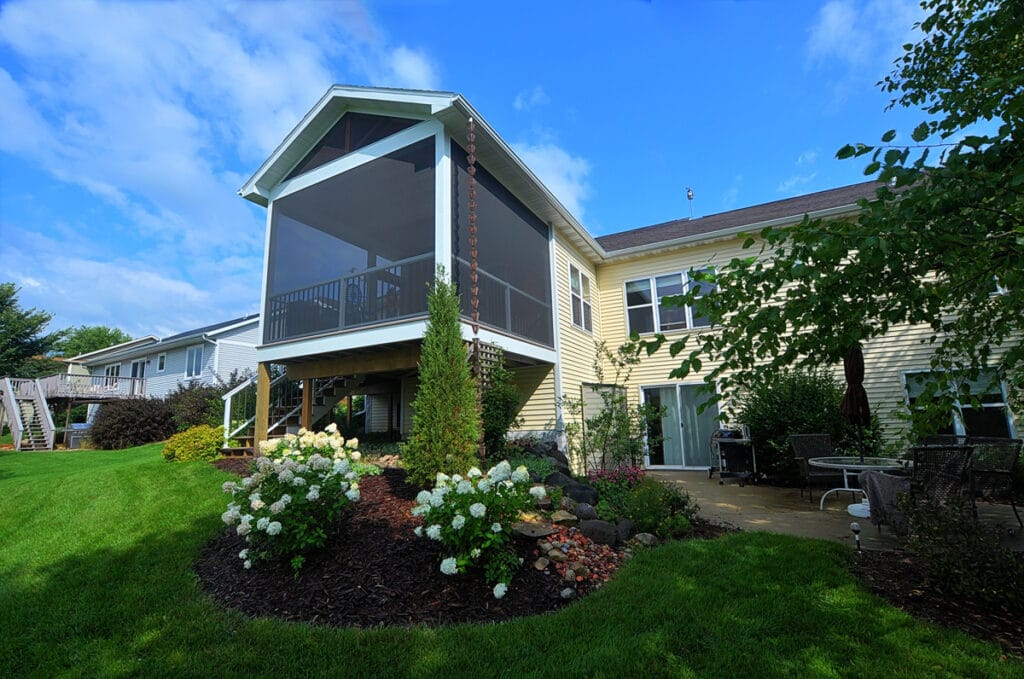 Our homeowners had the following three requests:
Update their deck finishes from the joists up, leaving the underdeck area unfinished.
Create a space that would protect their south facing deck from the intense sun, as well and create an insect-free zone.
With their home located on one of the fairways of the local golf course, it was important that whatever structure was created, that it minimized any obstructions from their picturesque views.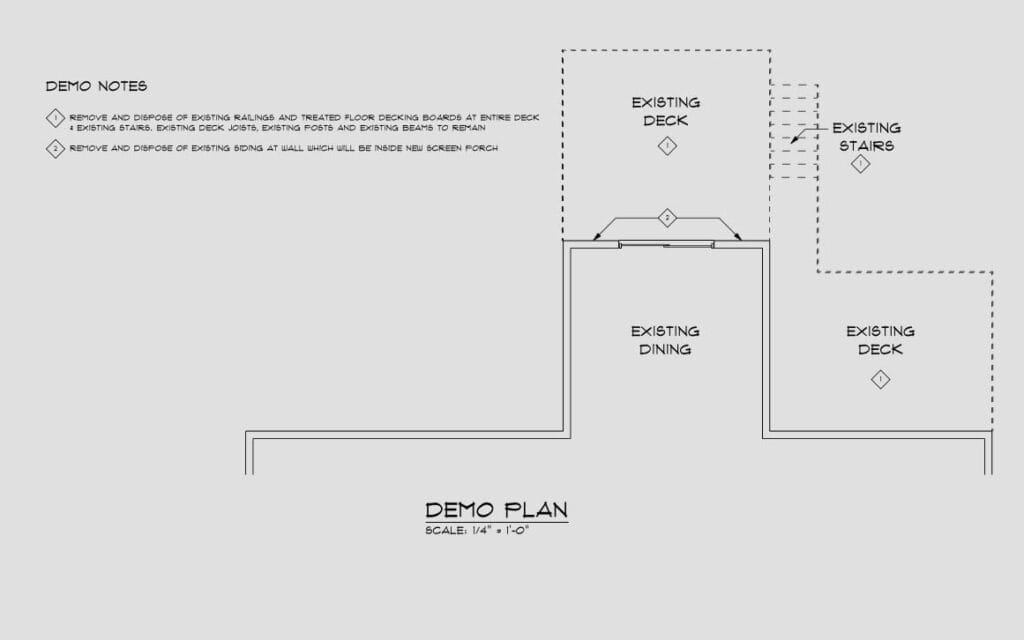 To accomplish these requests, our plan was to create a two-zone deck that includes a protected screen porch off of the dining room that fits over the existing deck footprint. We also were going to update the deck off their master bedroom providing an area to grill and have full sun exposure if desired. To do this, we investigated and determined the existing deck framing could remain while adding two new support posts. The new screen porch would seamlessly tie into the dining room gable wall by extending the gable roof over the deck — finally, modern finishes throughout, including a low maintenance composite decking, aluminum railing, and trim. The interior would have a rustic feel with stained tongue and groove cedar installed on the gable wall and ceiling.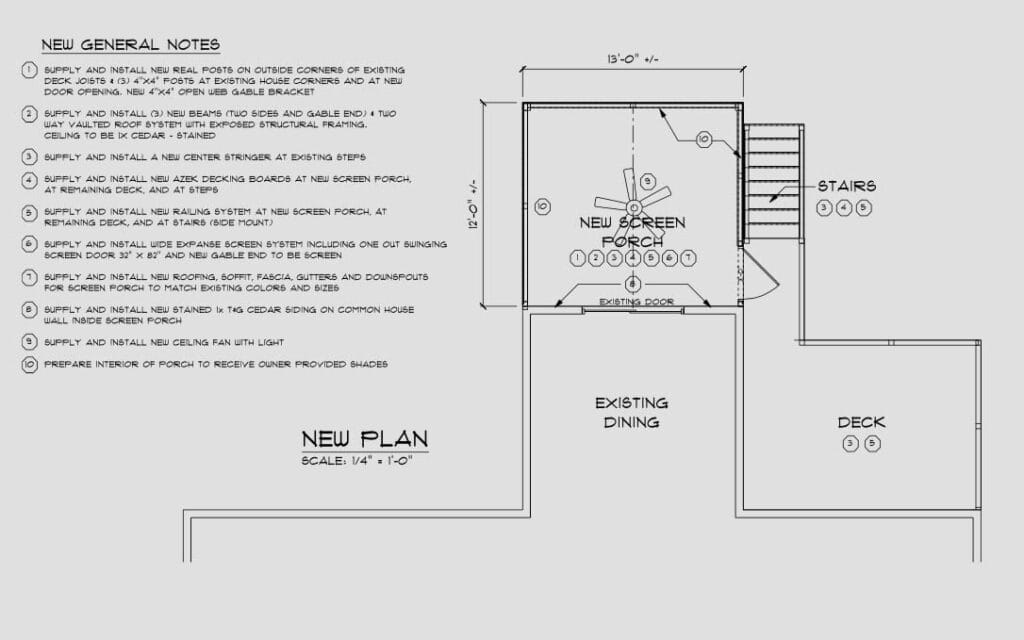 In addition to this plan that was assembled, we had an additional goal that we make every effort to meet on each of our remodels. No matter what type of addition or remodel we complete, it's a large goal of ours to make sure the work looks like it could have always been there. We go to great lengths when we match materials and textures, consider many different layouts and designs to figure out which design fits best, as well as continuously searching for new materials or methods that might better suit the homeowner's desires.
In an attempt to accomplish this goal, it made the most sense to create the new screened-in portion of the deck off the dining room. Nice, clean lines could be achieved by extending the existing gable roof, ridgeline, and pitch, as well as soffit and fascia. The soffit gable boxes were included to match the boxes on the existing house.
The smallest of details make or break a project. We have multiple different mediums that were chosen to finish this project. Through our years of experience in building these porches, we have found materials that work well together when it comes to the finished texture. This house has added raw cedar siding inside the porch as well as the mentioned MiraTec trim, Azek decking, and RealPost structural posts. Sometimes different real and faux wood grains can clash and make the products look unnatural. We have found that RealPost and MiraTec have available grain patterns that mesh well together, and the Azek decking grain pairs well with raw cedar. Both of these pairs are strategically used together on this porch.
No matter how good your design is or how superior the material you pick is, it won't matter if you don't have the attention to detail and craftsmanship it takes to ensure that your project is built to last. Skipping many of these detail affects the final outcome, or worse, takes years off the life span of your investment. Take a look at many of the fine details that went into the completion of this project.
Sturdy construction meets aesthetically pleasing finish. Mechanical fasteners are an essential part of having a strong and durable project. Many times they can be unsightly and ultimately negatively affect the final look of the project. With some careful forethought and some ingenuity, many times, you can conceal these much-needed fasteners. Shown here, many of the fasteners that are tying the roof to the posts to the deck are all hidden within the structural members of the deck. This provides absolutely no visible screws or fasteners once the beam wrap is applied.
Much of the material we used is a composite. These materials are designed to last much longer and stay much straighter that natural materials, such as wood. There is a small catch, though that many builders skip or overlook. They will work how they are designed when you take the required following steps after you make a cut into the material. Many times, it is required to paint any cut ends to reseal the raw edges. After each and every cut we make, we make sure to paint any of the raw ends of the material when as it's required.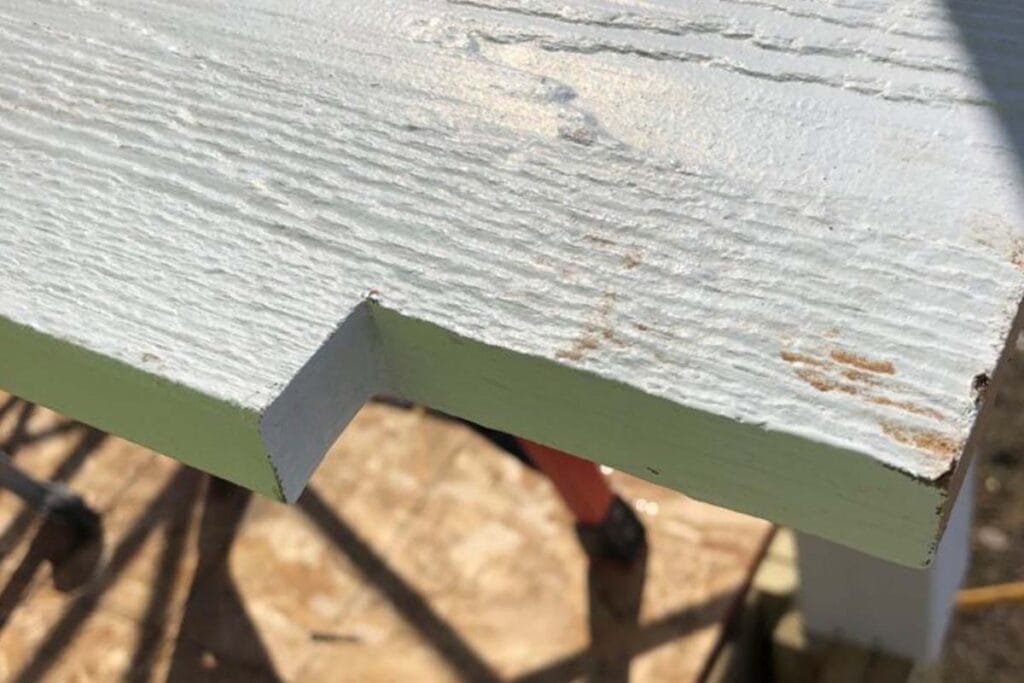 The main purpose of a screen porch is to keep the bugs out. We go above and beyond to make sure we lay a layer of the screen over the deck joists before we lay the decking down to ensure that bugs can't come up between the deck boards. A floor sweep is added to the bottom of our screen doors to seal off the gap as well.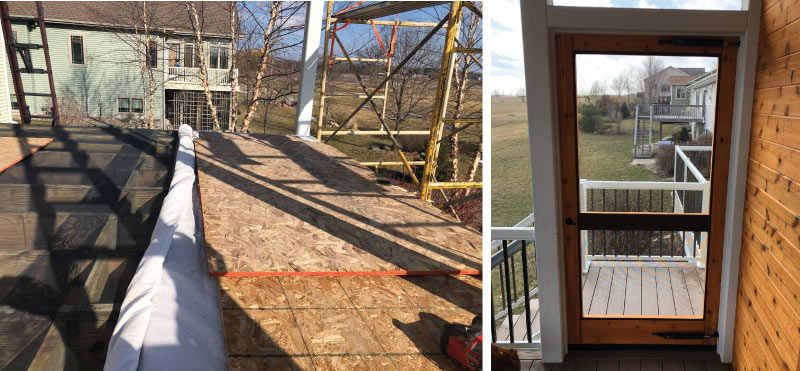 One of the first things some people may pick up on a project is a crooked line. Unfortunately for screen porches, there are many, many parallel lines in close proximity with each other. You have your deck boards, you have your railing balusters, and many times you have a siding or wall treatment. We take great care to make sure that these lines and gaps are perfectly straight and even run true through openings. Extra care was also taken to scribe the deck boards around the posts to ensure a consistent gap.
One step that happens long before the railing is installed, blocking was installed for each post of the railing so that they could be installed perfectly centered as well as correctly follow the inside line of the picture framed deck boards. Failure to do so will either through your layout off, or you won't have anything secure to install your railings to.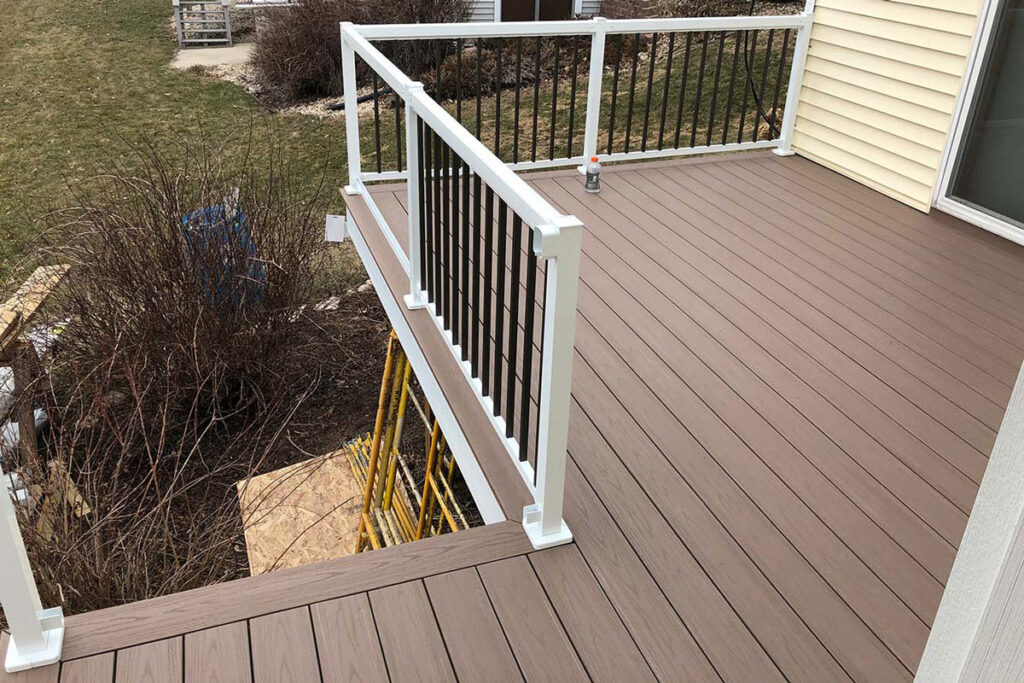 Finally, something that sets our screen porches apart from many others is the use of wide expanse screening systems. The largest benefit to this is the screen is able to stretch from corner post to corner post and from deck to ceiling providing an unobstructed view of the land that you already fell in love with.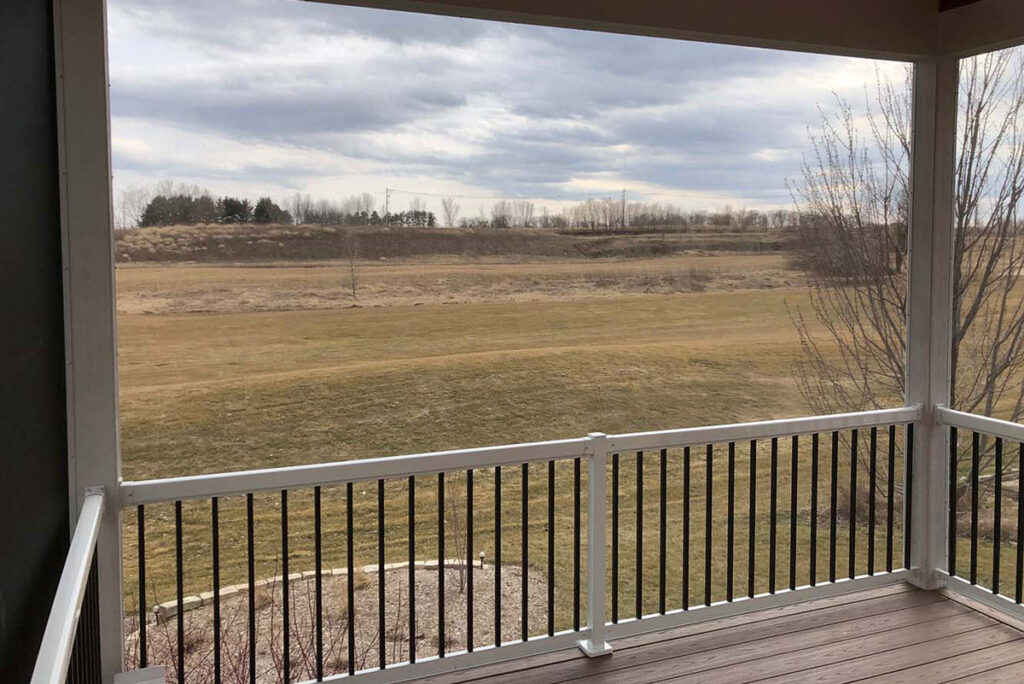 Considering a renovation? Simon Builders can help!
Here are some questions to ask yourself before you begin thinking about the redesign process.
What is my budget? Can I achieve the design I want? What are my goals for this redesign? Who do I call for help?
The last question is easy enough- our design and sales team will help you find the right look and quality products to transform your home. We have the years of experience to guide you through the process from start to finish! Contact us today to get started.